Since 1987, Lynwood Bail Bonds has been bailing people out of jail making us one of the oldest and most trusted bail bonds agencies in the state. Our expert bail bondsmen will provide you with fast, confidential, and courteous services to make the bail process less stressful for you. Bail Bonds in Lynwood bail agents are available 24 hours a day, seven days a week, and have enough expertise to handle any bail emergency. We provide free consultations and free warrant checks to help you or someone you love gets out of jail as quickly as possible. You can be approved for bail over the phone or in some cases we can even send a bail agent to meet you.
Unlike other bail bonds companies, Lynwood Bail Bonds bonds have no hidden fees, why would we trick you into paying more? All our bail bonds are 0% interest and we over discounts for AARP members, military personnel, and clients with private attorneys. We don't want to make this difficult time harder for you by charging you more.
Bail Bonds in Lynwood Office
2401 East Imperial Highway
Lynwood, California 90059
Phone: 323-357-0575
Map It!
24/7 Bail Bond Service
20% Discount
Phone approvals
0% Interest Payment Plans
No Hidden Fees – Unlike other bail agencies
No Collateral with Working Signer
Se Habla Espanol
---
CITIES WE SERVED:
Compton | Downtown Los Angeles | East Los Angeles | Gardena | Hawthorne | Huntington Park | Inglewood | La Mirada | Lynwood | Montebello | Norwalk | Pico Rivera
---
What Do I Do When Someone I Care About Is Arrested?
When someone you care about has been arrested, you undoubtedly want to help out. This means that you will probably want to bail your loved one out of jail. When it comes to bail, you have 2 options:
You can pay a cash bail, which will be the full amount of your loved one's bail.
You can get a bail bond, which will only cost 10% of your loved one's bail.
At Lynwood Bail Bonds, we help our clients bail their loved ones out of jail with affordable bail bonds. Bailing a loved one out of jail is extremely easy when you have our bail agents assisting you.
---
How Much Does A Bail Bond Cost In California?
Are you looking to bail a friend or family member out of jail, but are worried about the cost? Do not fret, Bail Bonds in Lynwood can help you out. We have been making bail bonds cheap and affordable for Californians for the last 30 years.
In California, all bail bonds start out as 10% of the person's bail. This means that if your loved one's bail is set at $10,000, his or her bail bond will only cost $1,000. This is the standard price set by the state of California, however, some bail bond companies can offer you a discount.
---
Making Bail Hassle Free With Lynwood Bail Bonds
Lynwood Bail Bonds has always been providing help and assistance with bail bonds at the highest quality standards. With plenty of experience under our belts, our potential clients tend to reach us by recommendations and referrals. Therefore, they know exactly what kind of collaboration they will have to face, not to mention about a top service level and professionalism.
Our customer service represents our main and official introduction to you. We know that people are afraid of what they do not know, such as this industry. However, our customer service can turn any negative story into an encouraging one. You will no longer be hit with jargon and technical terms. Instead, you will understand exactly what is going on, while our agents focus on a timely and quick jail release. Our service can be reached by multiple means, only for your convenience.
As if all these were not enough, our offices are located relatively close to the most important local jails. In other words, we have the possibility to start moving and proceeding with the paperwork as long as we have all the required information.
---
Bail Bonds in Lynwood Offers 24 Hour Bail Bond Service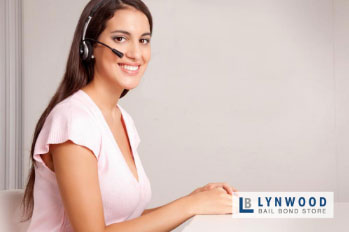 Lynwood Bail Bonds Agent. Open 24 Hours A Day! We Provide 24-Hour, Statewide Service.
If you've been arrested in Los Angeles County, be sure to contact Lynwood Bail Bonds as soon as possible. We have a giant team of professional bail bondsmen that are eager to escort you out of jail at any hour of the day or night, no matter where you are. Lynwood Bail Bonds has established relationships with countless clients throughout the entire county through our thoughtful, knowledgeable, and diligent help in bail matters. Once you've been booked and your bail is established, contact us to begin the process of re-establishing your freedom.
We'll send a licensed bail agent to your location as soon as possible. Our agent will post your bail and complete the procedures that California requires for your release. Please be patient as these formalities can take up to a couple of hours. Remain positive and upbeat, as we will make sure everything is taken care of. Our experienced Bail Bonds in Lynwood bondsmen perform their work with the utmost professionalism and concern for your well-being. The release process might only take an hour as it depends on how many others are ahead of you and if the jail is properly staffed. Most forms of payment are accepted to ease this situation for you.
Once the release procedures are completed, you'll be removed from the jail with the bondsman at your side. Installment payment plans are available on a case-by-case basis. Availability often hinges on the specific details of the individual's situation. Regardless of your guilt or innocence, Lynwood Bail Bonds values you. We will do everything in our power to post your bail and return your life back to normal.
Happy And Satisfied Customers
We work with the customers' satisfaction in mind. We know that a business will never resist in such a competitive market unless its reputation is exquisite. Our customers can lose the stress and enjoy peace of mind while our agents prepare the paperwork in order to release their friends or relatives. Our business is built on our reputation, while most of our customers reach us with testimonials and references. Our primary purpose is to help them with bail bonds and we proudly stand by our statement!
---
Latest Bail Bond Store Blog & Articles