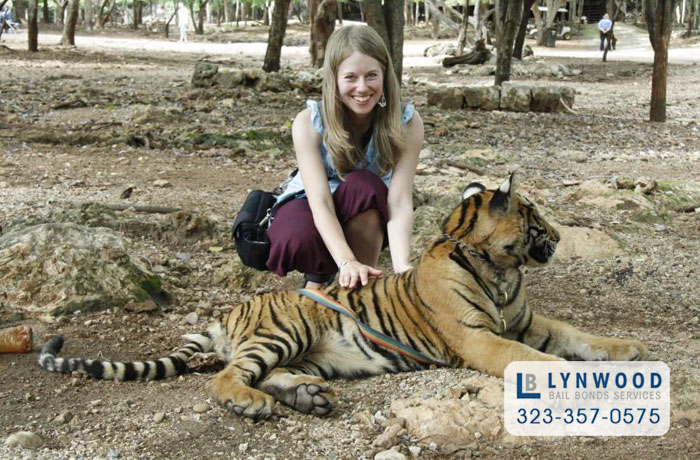 When going anywhere, it is important for a person to be sure that they have permission to be in that area. Privately owned property is everywhere, including public areas. Many people do not realize that places like stores and parks, even though open to the public, are actually private property. The land owner has simply given permission to the public to be in specific areas. This means that there are some areas that can be off limits to the general public.
There are obvious no-go areas such as employee lounges, or janitorial closest. One area that is definitely off-limits to everyone would be animal enclosures at zoos. This should be pretty obvious, but apparently not to everyone. One woman, while on a trip to the Bronx Zoo in New York, decided to climb into the lion enclosure to get the lion's attention. Now police are looking for her.
Entering the Lion's Den
At the start of October, video footage surfaced on social media platforms showing a woman who had climbed over the railing of a lion enclosure and was dancing and waving at a lion to get his attention. Needless to say, she got his attention.
Luckily for the woman, despite being inside the enclosure, there was a 15-foot moat separating him from her. Due to this fact, the woman remained unharmed.
The Bronx Zoo was alerted to the incident after it happened. The Zoo officials reminded everyone that it is never a good idea to enter an animal enclosure. Even though the animals are being held in captivity, they are still wild. The barriers are there to keep people and the animals safe.
Zoo officials contacted the police and informed them of the incident. Police are now looking for the woman to charge her with trespassing. This is due to the fact that even though the woman legally entered the zoo, she did not have permission to enter that enclosure.
California Trespassing Law
Here in the state of California, trespassing is defined and made illegal with Penal Code (PC) 602. As far as state law is concerned, someone is guilty of trespassing when they enter or remain on someone's property without permission, or the right, to do so. Under this definition, the woman in the video would be guilty of trespassing if the incident had happened here in California.
PC 602 is unique in that it can be charged as an infraction, misdemeanor, or as a felony. When it's an infraction, trespassing carries the following consequences:
A $75 fine for first time offenses
A $250 fine for a second time offense on the same land.
A third offense on the same land results in misdemeanor charges.
When PC 602 is charged as a misdemeanor, it carries the following consequences:
Up to 6 months in jail.
A max fine of $1,000.
Summary probation.
Felony charges of trespass occur when a person makes a credible threat against someone and within 30 days of making the threat trespasses with the intent of carrying out that threat. When a person does this, they can face jail time of:
16 months.
2 years.
3 years.
Trespassing Is a Bad Idea
Trespassing is never a good idea. It's entering someone's private property without their permission. As such, a person can get into legal trouble for doing so. Entering a lion enclosure at a zoo is a terrible idea. Not only would it be trespassing, it is also incredibly dangerous. Lions can very easily kill a human.
What do you think of the woman who climbed into the lion enclosure at the Bronx Zoo? Should she face trespassing charges? What about California's own trespassing laws? Do the punishments fit the crime? Let us know what you think in the comments down below.